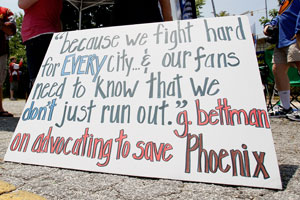 The fans pleaded to no avail in Atlanta. (Getty Images)
To the city of Atlanta and the sports fans there, I'm sorry, this feels a bit like piling on. But your city has been named the Most Miserable Sports City in America by Forbes, usurping Seattle for that dubious title.
Of course the biggest contribution to Atlanta's rise (fall?) to the top (bottom?) of the rankings was the loss of a franchise, the Thrashers leaving the city for the greener (or whiter with all that snow) pastures that were Winnipeg.
And no, the list doesn't refer to Atlanta being a bad sports city, even it that does apply. Atlanta would probably be in the running for that award neck-and-neck with Miami/South Florida.
It must really burn the hockey fans in Atlanta to see the franchise clear the executive offices out, get itself a new general manager and finding some success this season with nearly the same team that disappointed in Atlanta a year ago. Having to be reminded constantly about the Jets going from one of the worst home-ice advantages in the NHL to the best can't help either.
Here is the summary on Atlanta's deservingness of the title.
Over the past year, Atlanta fans have watched their hockey team leave for Winnipeg, their baseball team blow the playoffs on the final day, and their football and basketball teams bow out early in the playoffs.
Yea, that doesn't sound too pleasant. Then again one city that didn't even crack the top five doesn't have a hockey team, has a football team that hasn't made the playoffs in 10 years, a baseball team that has made it just once in the last 10 years and a basketball team that was left crushed when it was spurned by its biggest star. Yes, I'm looking at you, Cleveland. It's not found until No. 8 on the list.
The top 5 cities are:
1. Atlanta
2. Seattle
3. Phoenix
4. Buffalo
5. San Diego.
Phoenix could be making a move to pass both Seattle and Atlanta in the next year if the Coyotes fall to the same fate that took the Thrashers from Atlanta. It remains a very real possibility with no deal yet to keep the team in Phoenix/Glendale.
Who says hockey doesn't matter? Sure seems to carry a lot of weight here, even if it's for the wrong reasons.
For more hockey news, rumors and analysis, follow @EyeOnHockey and @BrianStubitsNHL on Twitter and like us on Facebook.